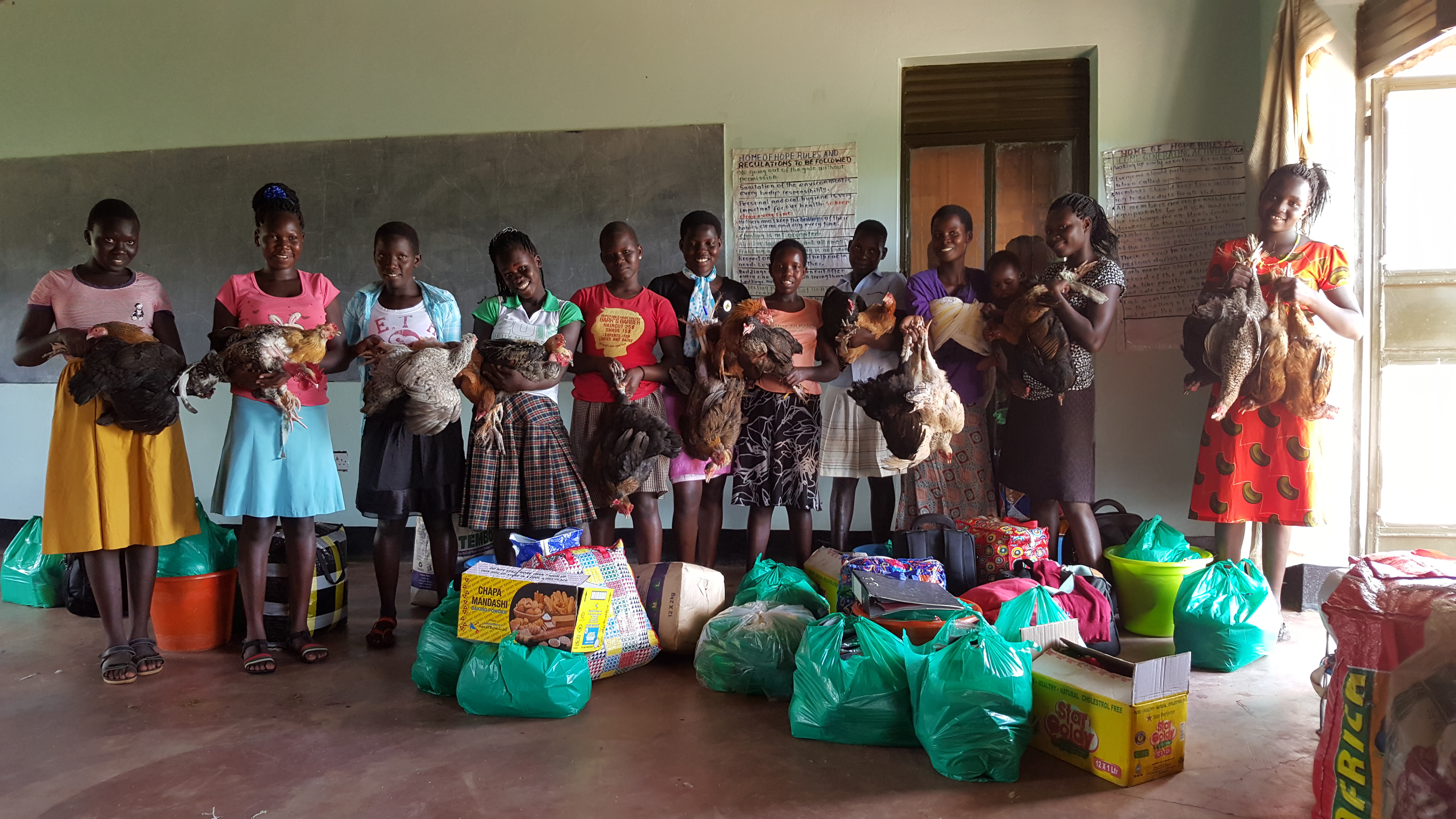 The first cohort of graduates from the Home of Hope Transitional Living Centre
On November 17, 2018, the first cohort of residents at the Home of Hope officially graduated from their six month program.
Over the course of their stay, they participated in training focused on health, life skills and livelihood skills. Their purpose was to build  capacity to become financially independent and manage a household in their own right.
CAPAIDS-Uganda Project Officer, Olivia Among, shared this reflection on the changes she observed:
All these girls came to the project with little or no knowledge at all pertaining to life skills, personal hygiene and skills for earning an income. The majority took the lessons seriously and valued their stay.
I saw success in the fact that majority of the girls had perfected their skills in the different income activities that they were trained in, including the making of snacks, hair plaiting, and poultry among others. For example, a group focused on making snacks  captured a larger market and would even make snacks up to even four times in day and this would earn them more profits at the end of the day. The income groups would make sales, record profits and losses, save the profits then go to the market and buy more materials to make their products. This clearly showed that they mastered the art of the business and can independently do some of these things on their own with little or no supervision. They were also able to build a simple chicken house that they will be able to construct with the locally available resources at little or no cost at all.
There was general change in the girls like behavioral change, interaction, hygiene, cooking skills, life skills and many other forms of transformation. When the girls came, majority did not know how to cook, relate with each other, needed to be reminded to take a bath, wash their clothes as well as for their children. However, all these changed, and they clearly said it themselves that they have learnt a lot of things that they will continue to practice while at home."
Moving forward…
Upon leaving the Home of Hope, the young women were provided with chickens, seeds, gardening equipment and other supplies. These will alloow them to continue small scale home-based agriculture and income generating activities. CAPAIDS-Uganda also has plans for a three-month post-residency support programme. During this time they will receive continued mentorship and will be linked with Village Savings and Loans groups in their home communities.
Building on the success of the first cohort, CAPAIDS-Uganda is busy finalizing plans for the second cohort who will be recruited in the New Year to begin their residency in February, 2019.
You can invest in this important initiative today with a donation directed to the Home of Hope.

Join us, invest in the power Hope today!