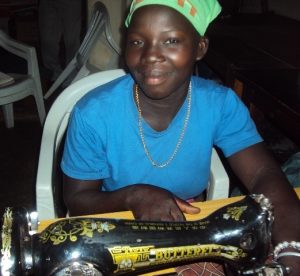 Gloria, age 16, is the first born of a family of four children. She is from Northern Uganda.
Life changed nearly overnight for Gloria when her father died of AIDS. Gloria's mother later tested positive for HIV and died the following year, leaving Gloria and her siblings orphaned, alone and without anyone to take care of the family.
After Gloria's parents died, life became very difficult. Living alone on their father's land, Gloria struggled to find adequate shelter, food and medicine to keep her siblings healthy and alive. Neither Gloria nor her siblings were able to afford to go to school. In 2010, the responsibility of providing for her brothers and sisters became more then Gloria could handle. She decided to travel to Kampala to look for a means to survive and support her family, leaving her younger siblings with their elderly grandmother in the village.
In Kampala, Gloria's luck took a turn when a good Samaritan; a former neighbor from the village, accepted to become her guardian. Gloria's guardian took Gloria to Needy Support Centre, a local community-based organization and a partner of CAP AIDS in Uganda. After sharing her story of losing her parents to AIDS, and becoming the head of her household, and care giver to her orphaned brothers and sister, Gloria was selected as a beneficiary of the CAP AIDS 'Building Sustainable Livelihoods for AIDS Orphans and Caregivers of AIDS Orphans', funded by Canadian donors.
Through CAP AIDS' project, Gloria enrolled in a tailoring course at a Vocational School in Kampala. She is busy using her new tailoring skills to sew clothing. In addition to learning a skill that will help her to provide for herself and her siblings, Gloria credits her experience in the CAP AIDS project with helping her to interact more freely with others, as she used to fear social situations and social interactions. Learning alongside other youth that have experienced similar life struggles has helped her to learn and given her hope that her life can and will get better. After the course finishes Gloria wants to return to her village in Northern Uganda and start a tailoring business so that she can take care of her brothers and sisters, and build a life for herself.