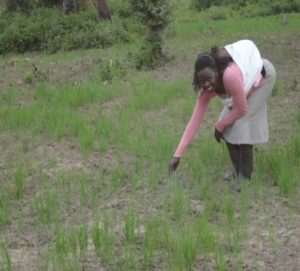 My friend Grace (not pictured here) takes care of 16 children, all orphans, all her brothers' and sisters' children, as well as her own children. She has been on her own now for over a decade since loosing her husband. Grace is HIV + and thankfully ARVs came around when they did for her. We've been friends for 15 years and we often send our New Year's updates back and forth at this time of year. Grace works as the head of a development organization in East Africa working with many families not as lucky or as well-off as hers. Yes, Grace is lucky and she often says so.
We've been talking about HIV/AIDS, poverty and the idea that there is such as thing as choice when in a tough spot.  Both our work hovers around creating alternatives for  people at the margins, in poverty, or who have been significantly dis-empowered, but sometimes we come in too late and then our work shifts too managing, a lot of our work is actually around managing.  We got to know each other when we worked together and she came out to me with her HIV/AIDS status because she and her eldest daughter were getting sick and she, then, didn't know how she could manage being ill while providing care to 16 children, while working and, then of course, the lack of job security compounded with the stigma of coming out with HIV/AIDS. They were stressful times and Grace managed all of it with remarkable grace.
I've been lucky to work part-time with the CAP/AIDS Network over the past near year to focus on communicating what communities are doing on the ground in their work to offer alternatives, to support the most vulnerable and to help people manage when and where they must. The CAP/AIDS Network of partners are an integral part of overcoming HIV/AIDS in their communities, creating options and responding to needs. I know many people tend towards thinking if we have drugs for HIV, for AIDS then we're done with our work, but it isn't as simple. Its the leg work, the kindness, the creating trust between people that lessens the disease, that brings people forward for testing, that creates tolerant and supportive environments for people to get medical assistance, as well as emotional support and financial inputs to keep people strong. Orphans have a tough go of it. Grace with 16 orphans in her personal care, provides, not just a home, but also all the school fees and medical bills which pile up. A number of her nieces and nephews are now at the age to enter university or to start some sort of work, and providing support to go to school, to take up training, or start a business so that all the children in her care have a future, is no easy undertaking. Grace and her nieces and nephews are lucky that she is able to do so. CAP/AIDs partners are located in marginalized and poorer communities with high levels of unemployment, HIV transmission rates and poorer school attrition rates. Families, are, like Grace, providing for as many of their orphaned nieces and nephews as they can. CAP/AID Partners work with families and focus on the most needy in their communities and, over the past year, have succeeded in creating a number of alternatives and bright futures for many orphans, and HIV/AIDs impacted families:
Some Highlights
Education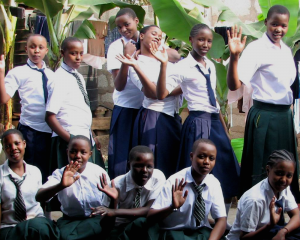 250 orphans have been supported with school feels and mentorship programs in Uganda, Tanzania & Kenya.  Mentorship programs are for young adults to help them either start a business or to have the skills needed to find employment.
Pippi House in Tanzania is one of our partners and provides a safe house which supports street involved young women with safe shelter and opportunities to complete schooling. In the past year, through partnership and the generosity of Canadian donors, vulnerable young women went on to secondary school. For women, attainment of secondary school education decreases risk of HIV transmission and the likelihood of ending up back on the streets!
Livelihoods
Our partner Kijiji Cha Upendo supported more than 30 orphan caregivers who were mentored and supported with micro-loans to move out of poverty in Kibera, Kenya.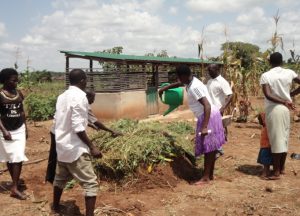 Garden and agricultural programs have been expanding, e.g. in Northern Uganda, a piggery and improved crops ensure that orphan headed families are food secure and have inputs to expand their gardens.
Community groups, such as the Needy Support Centre, continue to expand their programs, offering micro-loans to families while also remaining committed to health outcomes through HIV prevention and expanding access to health services  through community health worker programs. Communities are seeing a drastic reduction especially in Mother to child transmission of HIV. To read more about our partners work, or to become a supporting partner please CLICK TO READ MORE.
The spirit of partnership that exists between Canadians and community groups in East Africa is where we start from every year, and we thank all of or partners, donors, sponsors, volunteers and supporters for coming together.  Every year we get a little closer to the end of the AIDS pandemic, still Sub-Saharan Africa takes the global brunt of the disease with 70% of all infections. Progress is being made and transmission of HIV to children has been reduced by nearly 60% – an important change in the lives of children today!
Over the next few weeks more stories from communities and global highlights will be shared as we move into a busy 2016! Happy New Year to All! Thank you for being part of and supporting the CAP/AIDS Network.