We facilitate partnerships between concerned Canadians and African communities, providing capacity building and resources to support locally developed, community-driven development projects. By working together we are increasing collective impact, enabling support for African community-led development efforts and building solidarity for a more equitable, healthy and sustainable future.
Our Priority Areas
Working with community-based organizations on the front lines in African communities, CAP/AIDS provides capacity building support and resources for the implementation of joint projects focused in five priority areas – click on the icons below to read more about these efforts: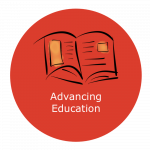 Partnerships
All CAP Network projects in Africa are implemented side-by-side with our local community-based partners and are made possible through the support of our Canadian Communities of Support. Partnerships between Canadian and African communities in the CAP Network leverage resources and knowledge towards sustainable development and social change goals. Community based organizations in Africa lead the way with Canadian communities of Support raising awareness and funds for CAP Network initiatives engaging African partners.