Founded in 2003, the Canada Africa Partnership (CAP) Network facilitates partnerships between Canadian and African communities, providing capacity building and resources in support of locally-led development projects.
The CAP Network was founded in 2003 under the name "CAP/AIDS Network" as a direct response to the HIV/AIDS pandemic in Africa. CAP/AIDS worked with local grassroots community groups who were mobilizing to respond prevent further spread of HIV, provide comfort and care to those living with HIV/AIDS and to help communities overcome the myriad of challenges to health, wellbeing and sustainability that are the impact of HIV/AIDS. In 2014, we changed our name to reflect the growing diversity of projects supported through the Network as we transitioned to our shared platform model.

We believe that we are stronger together. By sharing resources, experience and expertise, we can improve our collective impact and build a strong network for learning.
We believe in the agency of African communities. By working together we can prioritize listening and understanding, connect with a greater number of projects and provide more robust capacity building opportunities.
We believe that our model of collaboration can be an inspiration to our donors and partners alike. Out shared platform Network allows for greater fiscal efficiency and adoption of best practices. It enables us to make equitable partnerships and human connection central to our work.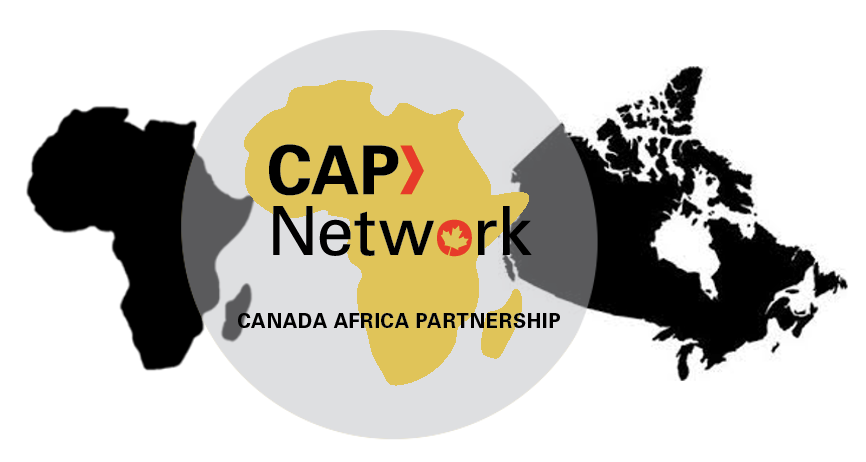 Katie Fettes

Katie is the lead support for Canadian Affiliates and provides leadership to Network fundraising and communications. Katie brings to the Network a deep commitment to direct people-to-people support between Canadian and African communities. This commitment was deepened for Katie through her work as a project manager at The Olive Branch for Children (TOBFC), a grassroots NGO that helps remote communities in Tanzania assess their primary needs and establishes programs that target the most vulnerable in those communities. At TOBFC, she witnessed the incredible impact of (largely Canadian) donor funds by an effective organization, which serves 80,000 people and employs over 70 Tanzanians to deliver sustainable programming. She continued to build on this commitment by co-founding the Rainmaker Enterprise, a CAP Network Affiliate Community that is implementing solar-powered water solutions for health and food security in South Sudan. Katie holds an MA in Conflict, Security & Development from King's College London, and a BA in Peace, Conflict & Justice Studies, African Studies, and Urban Studies from the University of Toronto.

Claire Holloway Wadhwani

Claire acts as senior advisor to the Network on a part-time basis through her consulting company Small Shop Big Impact. Claire has been with the CAP Network off and on since the beginning, joining the board in 2004 and then serving as Executive Director for many years. Claire has 16 years' experience specializing in fundraising, grant writing and organizational management of small-medium sized NGOs. She has worked with NGOs in Canada, East Africa and India focused on reducing inequality, advancing food security (with a focus on sustainability and climate change adaptation), promoting health (with a focus on HIV and sexual and reproductive health and rights), and livelihoods (with a focus on vocational training, entrepreneurship and, more recently, climate-smart enterprise development). Claire has a passion for grassroots participation and the efficacy of community-based initiatives as both a means of advancing community development goals and effectively engaging with community partners. Claire holds a B.A.H in International Development from Queens University, an M.A. from the University of Toronto, and a Certificate in Impact Assessment for International Projects from the University of Victoria.

Prayreen Chisanga

Prayreen is our Project Officer on the ground in Zambia, providing hands on training and facilitating our activities with partners under the SANI Twinning Initiative. Prayreen has worked with other NGOs in the area, specializing in project monitoring and evaluation and has extensive commmunity mobilization experience through her work in voter education with the Electoral Commission. Prayreen has a Bachelor's Degree in Information and Communications Management.
Blair Bowen, Toronto (Chair)

Blair is a trial lawyer specializing in corporate and commercial litigation and has conducted more than 40 trials and commercial arbitrations and more than 15 appeals. Blair has appeared as counsel in matters before the Superior Courts of the provinces of Ontario, British Columbia, and Nova Scotia, the Courts of Appeal for Ontario and British Columbia, the Federal Court of Canada, the Tax Court of Canada and on applications for leave to appeal to the Supreme Court of Canada. Blair has been an active supporter of the CAP Network for more than five years as a regular participant in Bike2CAPAIDS and as a third party fundraiser through his Golf Tournaments in Toronto.

Chris Friesen, Vancouver

Chris has been working in the field of refugee and immigrant settlement both in Canada and abroad for over two decades. Chris spent three years in Kenya coordinating an educational trust focused on student refugees from Northern and Eastern Africa. Currently, Chris is the Director of Settlement Services for Immigrant Services Society of BC. A frequent speaker in Canada and abroad on issues related to the settlement and integration of newcomers, Chris was awarded the TOESL International Advocacy Award in 2000. Chris co-authored the Simon-Fraser University report titled "A System in Crisis" – the first comprehensive overview of the current state of immigrant settlement and language programs in Canada. A founding member of the CAP Network, Chris served as President from 2003-2010 and, after this hiatus, has once again joined the Board of Directors.

David Lane, Guelph

After completing Bachelor's Degrees in Jazz Studies and Music Education at St. Francis Xavier University and Memorial University respectively David took a job as a teacher with the Kativik School Board in the Nunavik Region of Northern Quebec. David went on to complete an MSc in Rural Planning and Development from the University of Guelph emphasizing participatory development and monitoring and evaluation practices: including a major research paper using CAPAIDS-Uganda as a case study. While in Uganda, David spent some time volunteering, supporting project development and conducting capacity building workshops for local partners. David has since taken on several research projects primarily focused on education and aboriginal programming. He currently works as a consultant specializing in Monitoring & Evaluation of international projects.

Kate Mulvale, Toronto

Kate is a graduate of the University of Toronto where she studied Cultural/Social Anthropology and focused on the spread and effects of the African AIDS epidemic. This, along with her experience studying abroad in Indonesia and Kenya, has strengthened her dedication to help the fight against HIV/AIDS. After graduation, Kate volunteered with the CAP Network on a regular basis supporting administrative functions at the office one day per week as well as working to establish an online store to fundraise through the sale of handmade Ugandan jewelry. Kate currently works at Telus Mobility and Kate looks forward to the opportunity to continue working with the CAP Network and deepen her commitment to the organization.

Kevin Perkins, Ottawa

Kevin Perkins is the Founding Executive Director of the CAP Network. His interest in creating the CAP Network (then CAP/AIDS) goes back to his days as a Senior Program Manager for a Canadian charity that implements integrated community development programs in Africa. While serving as program manager, Kevin witnessed the terrible unfolding of the AIDS pandemic. Kevin left CPAR in 1997 in order to work on local economic development initiatives in his own community of Riverdale, Toronto . Yet, the terrible reality of the AIDS crisis in Africa was never far from his mind, and Kevin felt that he had to devote his time, energy, skills and knowledge to doing his small part to help. The illness and death of several friends from AIDS – in Canada and Africa – heightened Kevin's desire to dedicate himself to fighting the HIV/AIDS pandemic. Kevin brought together a group of his friends and colleagues, and together they decided to establish CAP/AIDS. On December 1, 2002, the first meeting of the founding group launched this new NGO. Kevin left his job at Riverdale in January 2004, and became the founding Executive Director of CAP/AIDS on a part-time basis. In the spring of 2006, Kevin became the Executive Director of the Developing Countries Farm Radio Network.

Lori Hale, Toronto

As Executive Lead of Research and Policy at The Change Foundation, Lori provides leadership on research projects and evaluation initiatives, the positioning of policy papers and strategic planning.Lori has over 30years of experience in the public, and private, not-for-profit sectors in strategic planning, policy development, project management and organizational change. She held increasingly responsible positions in the Ministry of Health and Long-Term Care (MOHLTC) with a wide range of policy portfolios -health promotion, health economic development, quality improvement, and integrated services for children. Lori had a broad range of public service experience with leadership positions in the Ministries of Community and Social Services, Intergovernmental Affairs, Research and Innovation(MRI), and the Premier's Council on Health, Well-Being and Social Justice.Lori's strengths include effective analytical and strategic planning, advanced Board and stakeholder relations, and effective project management.

Paul Stenton, Toronto

Paul is a founding member and volunteer with Village of Love Canada – a CAP Network Community of Support working with the Kijiji Cha Upendo Children's Project in Kenya to support orphan care in loving families in the Kibera Slum community of Nairobi. Paul has a rich experience in the University sector and is currently Deputy Provost and Vice Provost University Planning at Ryerson University. Paul is eager to help shape the ongoing development of the CAP Network umbrella strategy using his experience working in one of the original partnerships between Canadian and African communities at a grassroots level.

Peter Ssekiziyivu, Toronto (Treasurer)

rior to moving to Canada from Uganda, Peter spent years working with Canadian NGOs in Kampala supporting the financial management of development projects. Peter is an accountant, CPA and CGA who has worked with a variety of non-profit organisations including Dignitas International, World Vision, Plan Canada and Habitat for Humanity and is currently Manager of Finance with the Ontario Council on Articulation and Transfer.

TsiTsi Muyambo, Stratford

Tsitsi is an accountant by profession and work as a business manager at a mental health agency that serves Perth County where she assists in strategic planning and reports to the board on stewardship and finance. Prior to her work with non-profits in Canada, she worked in internal Audit at the Agricultural and Rural Development Authority in Zimbabwe where she helped in training local bookkeepers and field managers as well as appraising community development initiatives. Tsitsi is thrilled to be able to contribute to the CAP Network and put my knowledge to use as well as give back to such a great initiative.

Enabling Partnerships for Sustainable Change.
You can help make an impact with a tax deductible donation today.