This is a very challenging time for us all. We appreciate that as you read this, you are no doubt facing challenges of your own and managing uncertainties impacting you and your families.
These updates are meant to reassure you that we are able to continue our engagement with African Community Partners and Projects in light of recent developments regarding COVID-19. We also invite your input as we explore how we can continue to engage Canadian communities and ensure we are providing the resources needed on the ground in Africa.
First, our staff here in Canada are safe and well and are working from home as always. I have also been in touch with our Affiliates here at home and our Partners in Africa and all too are safe and well.
That said, situations are changing rapidly. We are all hard at work planning and preparing for the changes we need to make in order to respond to the COVID-19 pandemic.
Several of our African Community Partners have put much of their regular programming on hold. They are instead mobilizing to see how they can participate in the education and protection of their communities now that COVID-19 has reached their borders.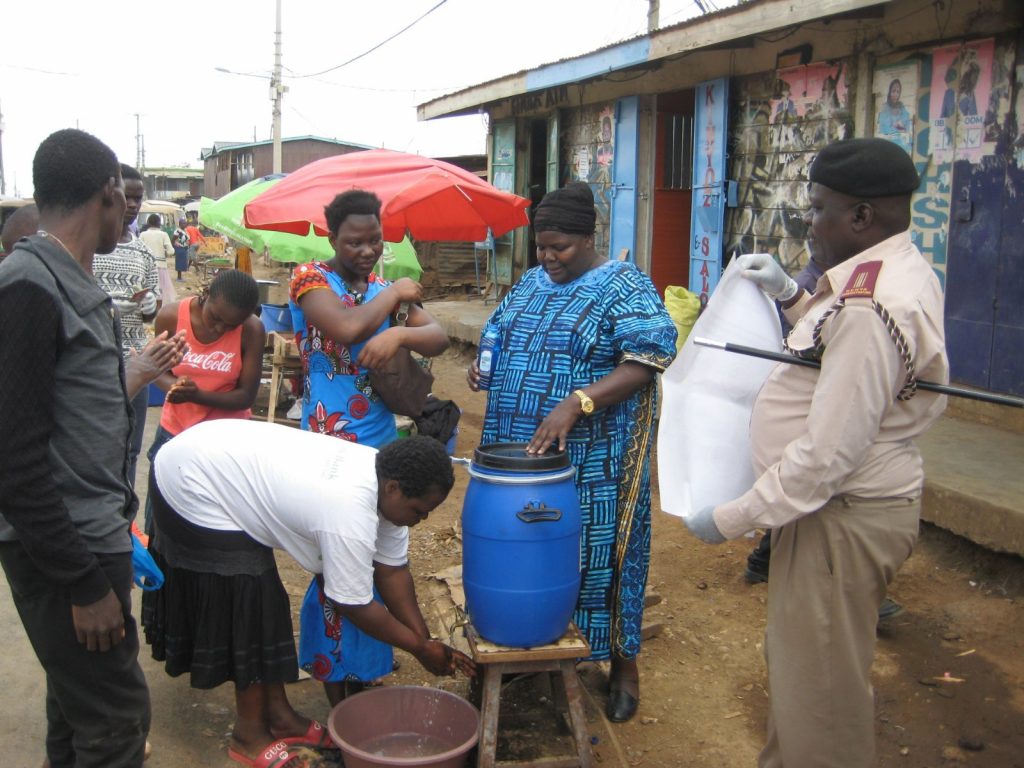 We are, as always, inspired by their leadership and how quickly they are able to identify needs and respond. For example, in Kenya, Kijiji Cha Upendo has already been deploying staff, funds and volunteers to set up handwashing stations and conduct community sensitization in the Kibera slum community in Nairobi.
As a network, we are looking at how we can reallocate funding and resources to where they are needed most. In Zambia, our partners CPIEM and the Chikanjebela Women's Club are joining the prevention efforts and providing care and support for any members of their communities who fall ill. In Kenya, Kijiji Cha Upendo is putting together their plans to scale up their handwashing infrastructure and education efforts and to provide food baskets to families in need who are ill or unable to earn a living due to COVID-19. In South Sudan, Rainmaker is also looking into sanitation and hygiene trainings to ensure its clean water source supports community health. In Uganda, CAP AIDS Uganda is looking at how the Home of Hope facility can best be used as a community resource if COVID-19 begins to spread in Boroboro and surrounding communities.
Here at home, we need to make sure we can provide the financial resources our partners need to fulfill these plans and respond to the needs of families and communities.
Just last night, our Board of Directors approved the creation of a special fund to be deployed to fill gaps and support partners in rolling out responsive activities in their communities. This is one important measure we are taking.
We also invite you, our Canadian community, to join us in the coming months in rallying around our collective efforts to support African communities on the front lines of building community health, resilience and vitality. Our annual CAP Ride bike-a-thon fundraiser is a crucial source of revenue for our work every year – this year more than ever. The ride will take place on Sunday, June 7th as a virtual ride – with participants riding individually from where they are, while taking part in a fun virtual experience that will allow us to engage with community around the event. This means riders are welcome from anywhere! I hope you will consider joining us! Registration is now open online at www.CanadaAfricaPartnershipRide.ca.
This crisis highlights how important it is for us to work together. I hope you will continue to engage in partnership with African communities as a part your solidarity with the global community to which we all belong.
We are all in this together! Stay well, and please stay in touch.
Claire Holloway Wadhwani
Executive Director