Dorcus, a 26 year old farmer from Boroboro, was invited to a CAP Network agriculture and livelihood training held by our partner CAPAIDS-Uganda in July 2015. She was one of fifteen youth trained in modern agriculture techniques and health and among nine youth that CAP Network intern Aleksandra Lukasiewicz met with this month (pictured together).
After the training, each of the youth was given seeds and tools for their drops, with Dorcus receiving rice seeds. The training helped her considerably as her yields in the past had been quite low, but they increased significantly after she implemented the techniques that she learned. Of the youth who received rice seeds, Dorcus had the highest yields – five and a half bags.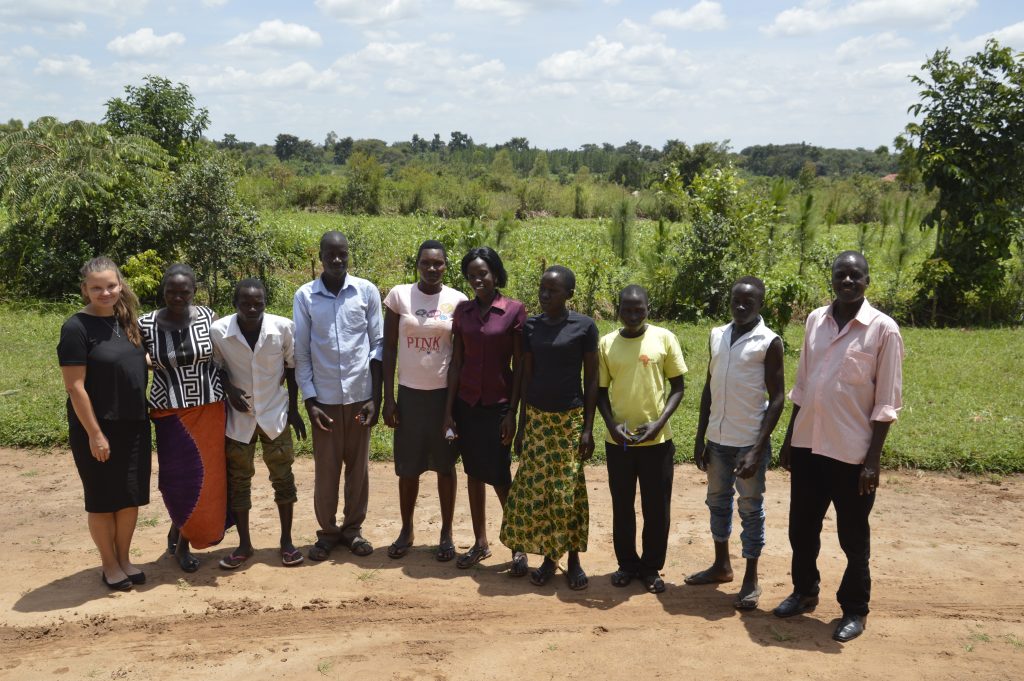 Along with modern agriculture techniques the training taught the youth about post-harvest handling and storing of yields.  This enabled Dorcus to choose when to sell her harvest depending on the market and not be forced to sell when market prices were low.  This therefore increased her profits.  For her first harvest, Dorcus kept some of the seeds and yields and sold some rice and used the revenue to buy two goats, which have already produced a kid.
The next growing season Dorcus planted ground nuts. Her harvest was very successful, producing eight bags. From this harvest she sold a portion and has the remainder stored to sell when she needs income.  Dorcus planted rice and soya beans this season.  With another expected drought she decided to plant two crops with the hope that at least one will produce, giving her and her income more stability.
During the training, the youth were encouraged to share their seeds and knowledge with other vulnerable youth in the society.  Dorcus shared her seeds with her brother and is often sought out for advice by other members of the community.  She is more than happy to share what she has learned and has been successful for her.
Her new stable income has changed Dorcus' life for the better.  She now has the capacity to have a thriving business, provide for her family, pay for her sisters' school fees and even invest some savings into a Village Savings Fund.  With another good harvest and additional income, Dorcus hopes to return to school next year and eventually get into produce dealing.