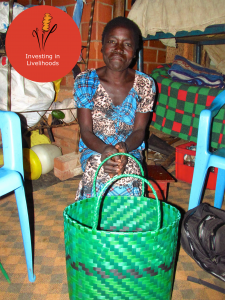 Florence Anyeko is a widow and the mother of four beautiful children.  She was referred to the Needy Support Centre by the group's mobilizer Oroma Joyce.
Both HIV positive and suffering from cancer, Florence received a bicycle from CAP-AIDS Uganda during their bicycle distribution project and was a participant in the Youth Entrepreneurial Stream of the 2009-2012 Sustainable Livelihoods project.  Years later, the bicycle given to her is still in working condition and she is able to rent it out as a bicycle taxi for extra income.
During the Sustainable Livelihoods project, Florence received training on business skills and career guidance coaching sessions; she also participated in HIV Life Skills training.
Together with some of the other project beneficiaries, Florence received start-up capital to start a tailoring cooperative with the goal of supporting their colleague Atto Mercy.  Although she did not know how to sew, Florence assisted the group with finding a market for the group's products.
Unfortunately the cooperative tailoring business came to a close after many of the group's members left. However, Florence was able to use the business skills gained through trainings provided under the Sustainable Livelihoods project to pursue her true passion – basket making!  She currently makes baskets which she sells for 15,000UGX a month and in a good month Florence can earn up to 400,000UGX (155.00$!).
With this income Florence is able to support her children and pay for their school fees. In the future, Florence hopes to build a permanent home for her children.