Providing bikes means solving basic transportation issues which get in the way of things like access to health care, the ability to earn a living and for communities to mobilize. By distributing locally sourced bikes to our partner communities we are expanding by 10X the ability of health workers and other community mobilizers.
The Need
Our grassroots partners are working hard to reach their communities with health information and education, to provide care and support for people living with illnesses, such as HIV/AIDS, and to support families, vulnerable children and orphans. However, in busy urban centres and rural villages alike, volunteers on the ground often have difficulty reaching vulnerable members of their communities due to the time needed to travel. Thus, their impact can be limited not by lack of will or know how, but by the limits of relying on traveling by foot or relying on more costly forms of transport.
CAP Network's Response
The CAP Network provides bicycles to organizations that cannot afford motor vehicles but need transport to expand and strengthen their outreach, education and care. Bicycles are an ideal means of reaching members of the community as they are affordable, easy to maintain and can be used to cover distances in a relatively short amount of time. The bikes the CAP Network provides are locally procured and are accompanied by a basic repair kit and training on bicycle maintenance to ensure that they are a sustainable resources for our partners and their communities.
Impact and Results
Over the years, the CAP Network  has provided more than 1,000 bicycles to partners in Ethiopia, Malawi, Tanzania and Uganda in support of HIV outreach, health promotion, education and care and support activities by local volunteers. Equipped with a bike, outreach and care workers can expand their reach by 10X – therefore greatly expanding their reach and maximizing their effectiveness in supporting the needs of members of their communities.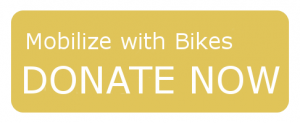 Eunice Achieng – An HIV Nurse Using Her Bike to Reach Patients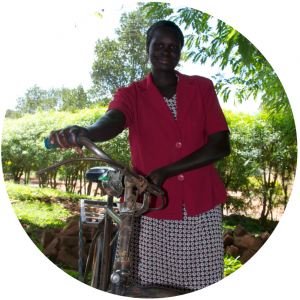 Achieng Eunice has devoted her life to helping people living with HIV/AIDS, recognizing their struggles not only with the disease, but just to access health care.In her community of Boro Boro, northern Uganda, HIV/AIDS has had a shattering effect, making widows out of wives and orphaned children out of families. For those still battling with the disease, many are too weak to cope with raising a family single-handedly, to earn a living, or pay for their children's schooling. Achieng has been working as a nurse for the Boro Boro Health Centre (a CAPAIDS-Uganda partner), trying to better the lives of her patients. But while the health centre's rural location provided key services to an area far from a town or city hospital, it was still too difficult to reach for many, especially those physically weary from HIV/AIDS. Achieng's work was challenging, since patients would often be unreachable. The provision of a bicycle immediately increased the effectiveness of her work. As a part of CAP Network efforts, Eunice was given a bicycle to widen her support network. Now she can deliver immunization and counseling to more patients, check up on those who have been bed-ridden by HIV/AIDS, transport people to the health centre, and test men for HIV/AIDS who would normally be too reluctant to be tested in public. She says that now 'when you gave us the bicycle, … it was even very easy for us to go for outreach.'..  READ MORE >>