Investing in livelihoods means investing in building people's skills, assets and abilities for long-term growth and resilience. Livelihoods translate into better health, access to education and overall well-being. Through the CAP Network more than 1,200 families, orphan headed households and vulnerable youth have developed sustainable livelihoods and left abject poverty.

The Need
Chronic diseases, such as HIV/AIDS, war, natural disasters, e.g. droughts, housing insecurity, and unemployment are some of the ingredients that go into creating extreme poverty. Poverty has terrible impacts on families, children and youth. Families, widows, orphan headed households struggle to make ends meet and put food on the table, let alone support school fees or the cost of caring for vulnerable family members. Poverty increases health problems, lowers education levels and destabilizes families and communities over the long-term. Supporting livelihoods has the opposite effect.
CAP Network's Response
The CAP Network is working with Network partners to coordinate delivery of vocational skills training and employment for orphaned and vulnerable youth. We are also coordinating self-employment skills development activities for caregivers and youth, providing start-up financing for their new businesses. Finally, in order to guarantee the sustainability of new sources of income, we facilitate life skills training to ensure that new incomes translate into long-term change, enabling these vulnerable youth-headed and caregiver households to break the cycle of poverty.
Impact and Results
Through our focus on sustainable livelihoods, we have supported more than 1,500 AIDS-orphaned youth and caregivers to develop new sources of income and to become self-reliant. Most often starting from surviving on less than $1 per day, these family breadwinners have, on average, increased their household incomes by 200%, enabling them to become food secure, pay school fees to keep children in school and cover medical expenses. Most of these families have 5+ dependents who, in turn, have a better chance of escaping the all too common cycle of HIV/AIDS and poverty.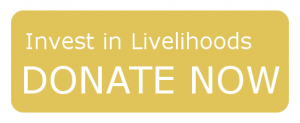 Sustainable Livelihoods Giving Back: Joyce & Her 25 children.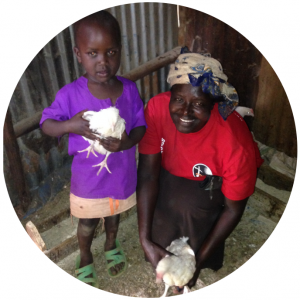 After escaping the war in Northern Uganda, Joyce moved to Kampala and settled into Nakawa and connected with a group of caregivers who were working hard to provide a future for orphans and vulnerable children in their community. Joyce enrolled in a Sustainable Livelihoods project, funded by Canadian donors, where she received life skills training and start-up capital for selling poultry. By 2012 Joyce's monthly income had doubled from 50,000 to 100,000 and she wisely reinvested to begin growing maize on a small plot of land. Her maize business now earns her 30,000 per day during the harvest season whicch is a nice supplement to her current monthly income of 1,700,000! What makes Joyce's story so amazing is that she has experienced the insecure reality of residents of informal settlements as she has been forcibly evicted and displaced from her home three times the in the past several years. Her poultry business absorbed these shocks, and her business has flourished helping her to persevere.  Selling chickens, allows her to support her 25 children (5 biological and 20 AIDS-orphans) and pay their school fees. All 25 children are in school. Joyce still intends to expand her poultry business further and in the future, she hopes she can buy land for her children.